JL Industries fire extinguisher cabinets are created from high quality materials and are designed for any commercial environment. These stylish and durable cabinets are created from steel, aluminum, acrylics, bronze, brass, fiberglass and even plastic. All JL Industries products are created in the United States.
Considered the industry standard by many, JL Industries cabinets can work in almost any environment. JL Industries fire extinguisher cabinets ship from eight different warehouses around the country, which ensures that you will get your product fast.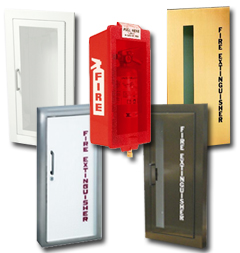 When choosing a fire extinguisher for your building there are many factors you must consider, let's look at a few:

Cabinet Construction - First let's start with the materials that the cabinet is constructed from. Most fire extinguisher cabinets are constructed from steel, with a stainless steel finish on the face of the cabinet. The stainless steel finish is designed to match other cabinets and other stainless steel components and accessories in the building, such as doorknobs and bathroom fixtures

Type of Finish – When choosing the finish of your fire extinguisher cabinet there are many types to consider. One of the most common finishes is the standard powder coat finish, but there are many options. Other finishes of fire extinguisher cabinet's include stainless steel, brass, bronze, aluminum or painted steel to match the colors of your decor.

Mounting Options – JL Industries fire extinguisher cabinets come in three mounting options:

Surface mounted
Semi-recessed
Recessed
Mounting a fire extinguisher cabinet can be a tricky process. Some situations allow for the cabinet to just be surface mounted which is a much easier solution than recessed or semi-recessed mounting. In many situations, in order to meet ADA compliance, the fire extinguisher cabinet must be recessed or semi-recessed.

Door, Window and Handle types – The doors, windows and handles of JL Industries fire extinguisher cabinets come in many varieties.

Some doors are solid steel and feature either powder coat finish, stainless steel or paid still. Most doors have a flush finish and are attached by a continuous hinge. Some doors also feature rolled edges, depending on the model.

Regardless of the finish of the door, they often have windows. The windows in a fire extinguisher cabinet can be made from either glass or acrylic and often feature a glazed finish. Depending on the unit the buyer chooses, they can often have their choice of the following finishes

Clear acrylic
Clear wire glass
Bronze or gray acrylic
Tempered glass
Laminated safety glass
Handles – Handles can vary greatly from one cabinet to the next. Most cabinets come with protruding handles. But in some instances there is a need for the handles to remain flush with the front surface of the cabinet. This allows the cabinet to meet certain ADA requirements. These handles can be called different names depending on the manufacturer of the fire extinction cabinet. JL Industries labels these handles as ADA poll handles which are available on certain door types.

Cabinet Color – Most of the JL Industries fire extinguisher cabinets can be painted with optional colors at additional cost. JL Industries fire extinguisher cabinets are painted using a VOC-free electrostatic painting process. This painting process causes the paint to be attracted to all exposed surface area of the metal. This method is very effective at yielding a continuous coat of paint on both the inside and the outside parts of the cabinet. Which provides excellent protection against dust and moisture giving the fire extinction cabinet the longest lifespan possible.

Here are the colors that JL Industries can paint your cabinet:

Bronze
Gray prime coat
Black
Red
Safety yellow
Brass
Sand
AMS beige
Orange
White
Silver
Gray
White
Alarm Systems – Alarm systems are optional add-ons that can be attached to any JL Industries fire extinguisher cabinet.
First we will discuss strobe alarm. This alarm sounds a warning horn and activates a flashing strobe light when the cabinet has been opened. The alarm will stay on for 2 min. even after the door is been closed. The on off switch of the alarm is key activated and is powered by a 9 V battery (not included). The strobe alarm is available only on cabinets with at least 3 inches of trim or surface mounted.
Next we have the brigadier alarm. The brigadier alarm sounds a warning horn whenever the fire extinguisher cabinet door is open the alarm stays on for 2 min. even after the doors been closed. It features a keyed on/off switch, and is powered by a 9 V battery (not included).
Third is the commander along, this alarm sounds a warning horn whenever the doors opened. The unique thing about the commander alarm is that it is deactivated when the door closes or the key is switched into the off position. It also features a keyed on/off switch, and is powered by a 9 V battery(not included).
Decals –
JL industry cabinets are broken down into four style line's:
Ambassador

Academy

Cosmopolitan

Cavalier