With all of the choices that you have in purchasing a fire extinguisher cabinet one of the biggest questions can be "Where is this product made?" Products that are made in the USA provide jobs for the American public. You can feel confident purchasing a fire extinguisher cabinet made in the USA knowing that the quality and the craftsmanship is first rate.
While many of the fire extinguisher cabinets are made in the USA; some are not. Some of the products made overseas have such low quality that even the doors can blow off in high winds. Don't be fooled, make sure the products you buys are of high quality and will last in the long run. Compare prices, but also take into account where the product was made and the quality of the fire extinguisher cabinet.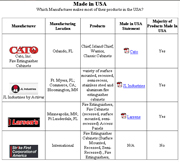 JL Industries | Buy Online



JL Industries manufactures the majority of their fire extinguisher cabinets in the USA. They have 8 warehouses and 2 manufacturing facilities in Bloomington, Minnesota and California. JL Industries is known for its quality and are now known for having the "widest selection of extinguisher, valve and hose cabinets in the world". They have been in the fire extinguishers, fire extinguisher cabinets and accessories business for over 65 years. Know that when you purchase JL Industries fire extinguisher cabinets you are purchasing from an American company that builds its products in the USA.
Larsen's | Buy Online



Larsen's constructs their fire extinguisher cabinets out of top quality aluminum, steel and stainless steel. The majority of their products are manufactured in the USA. Their motto is Experience + Expertise = Excellence. You can rest assured when you purchase a Larsen's fire extinguisher cabinet that it will be of the highest quality and will last. They believe in using technology to serve you better. You can choose from many different styles of doors including vertical duo, solid door and full glass glazing.
CATO| Buy Online


CATO Manufactures all of their products in the USA. They provide a superior product over their foreign made competitors. In their plastic fire extinguisher cabinets such as the Cato chief, they use a higher grade plastic that will last longer in the field. The Cato Chief has a thicker frame which helps brace the extinguisher than the overseas competition. The emergency break panels are made from Plaskolite which has a longer U.V. resistance than the competition. The panels on the inferior competition have been know to just fall apart in the sun. The Cato also uses U.V. resistant ink to keep from fading in the sunlight. The overseas competition just does not pay attention to these details. If you buy a CATO fire extinguisher cabinet, you know you will get a high quality cabinet that has been made with care buy American employees and American jobs.